Last Raps Baseball will be hosting a March Break Baseball camp during the 2018 Spring Breaks. This weeks camp is four days in length and is located in North Vancouver, BC and will run Monday through Thursday. These camps are a rain or shine event and campers need to bring appropriate clothing for all weather conditions. Campers need to dress appropriately for baseball. Shorts at this time of the year is not appropriate attire for baseball participation.
At this camp we will be joined by longtime Major League Baseball hitting coach Orv Franchuk.
With nearly 30 years of professional baseball experience, Orv Franchuk has used his formative teaching background to connect with baseball players of all ages. The Lac La Biche, AB, native played his college baseball at Pepperdine. As he was set to sign with the New York Mets organization he untimely ruptured his Achilles Tendon and that ultimately ended his playing career. Though his playing career unfortunately ended abruptly, it spawned a lifelong journey into the world of professional baseball as a scout, coach and coordinator.
Franchuk's professional baseball career took many interesting turns. While holding a teaching position in his home province of Alberta, Franchuk started scouting for the Cincinnati Reds from 1977 to 1984.
From there, he was a scout and then became a coach in the California Angles system from 1988 to 1994. Franchuk was the scout who was looking to sign former CFL quarterbacking legend Matt Dunnigan. After the 75th Grey Cup, Dunnigan showed up in Florida looking to catch on with a minor league affiliate. Ultimately the baseball contract Dunnigan was offered, turned into leverage for him and was able to secure very lucrative CFL deal.
Moving to the Oakland Athletics, Franchuk was the hitting coach for the Edmonton Trappers from 1995 to 1997, roving hitting and catching coordinator from 1998 to 2001, and manager for the Vancouver Canadians in 2002. It was during this era that Oakland General Manager Billy Bean forced Franchuk's hand to make a decision to either join the Athletics full time and leave his teaching career behind.
Arguably the highlight of Franchuk's career was as the hitting coordinator for the Boston Red Sox from 2003 to 2006 where he was apart of that organizations first World Series since the early 1900's. Becoming the hitting coordinator for the Red Sox was not an easy task. One of his first days on the job in spring he was cornered by Red Sox legend Carl Yastrzemski where he was asked to join "Yaz" on his golf cart for a day to talk hitting.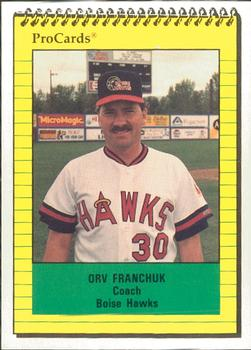 Subsequently Franchuk held the same position with the Houston Astros from 2007 to 2008. In 2011 he guided the Edmonton Capitals to the North American League championship. Franchuk was the hitting coach for the Los Angeles Dodgers AA affiliate Chattanooga Lookouts in 2013 where he worked with current Dodger stars Yasiel Puig and Joc Pederson.
In addition to Franchuk's professional coaching career, he also spent time as a coach for the Canadian National Team at the 1978 Amateur World Series, 1981 Intercontinental Cup and 2007 Baseball World Cup.
Camp Information
These camps are structured to help young ball players prepare for their upcoming season. These camps will feature a number of different skill stations where young ball players will rotate through these stations receiving various skill specific instruction from coaches and players. Skill stations will include but are not restricted to, base running, throwing, hitting, infield, pitching, outfield etc. Campers will be classified first by age and then grouped by ability.
Players will need to bring their own gloves, batting helmets, bats, baseball shoes and a lunch. Be sure to bring a water bottle. This camp will be limited to 32 campers.
Week 1
Camp #1
March 18 to March 21
Location: Loutet Park, North Vancouver
Time: 10:00am to 3:00pm.
Ages: 8 to 14 years old.
Cost: $300 plus applicable taxes.