Last Raps Baseball will be hosting a March Break Baseball camp during the 2019 Spring Breaks. This weeks camp will take place over six days and will be located in North Vancouver, BC and will run Monday through Saturday. This camp is a rain or shine event and campers need to bring appropriate clothing for all weather conditions. Campers need to dress appropriately for baseball. Shorts at this time of the year is not appropriate attire for baseball participation.
At this camp we will be joined by former Major League Baseball outfielder Eric Fox.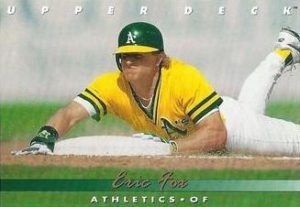 Eric Fox was a former Major League Baseball outfielder who attended Fresno State University.
A switch hitter who threw left-handed, Fox was taken in the 22nd round of the 1984 Major League Baseball draft by the Toronto Blue Jays. He failed to sign and re-entered the draft. In 1985, the Philadelphia Phillies took him in the 13th round; again, he did not sign. Finally, in the 1986 draft, the Seattle Mariners took him fifth overall in the first round, and he signed with them.
Fox spent three seasons in the Mariners organization before being released on March 29, 1989. On that same day, the Oakland Athletics quickly signed him. He spent the next few years in the Athletics' minor league system before making his Major League debut on July 7, 1992, at the age of 28.
Fox's career highlight may have come on July 29, 1992, when Fox hit a game-winning, three-run home run against the Minnesota Twins. That win put the A's into a first place tie with the Twins and catapulted them towards the American League West Division title that season, while the Twins finished in second place, six games back of the A's. Many Twins fans blame that game and his home run for the downfall of the franchise through the rest of the 1990s, only one year removed from winning the World Series in 1991.
The minor league speedster did not live up to his 49-steal potential in the Majors. In 116 career MLB games, he stole only five bases (in 1,178 minor league games, he stole 224 bases).
After his final big league game, he still played minor league baseball until 1997, in the Los Angeles Dodgers, Phillies and Baltimore Orioles organizations. He has since coached in several organizations, notably the Florida Marlins and Arizona Diamondbacks systems, and spent 2013 as a coach for the Harrisburg Senators in the Washington Nationals' farm system. He was the manager of the Marlins' Double-A affiliate, the Portland Sea Dogs, in 2002.
Camp Information
These camps are structured to help young ball players prepare for their upcoming season. These camps will feature a number of different skill stations where young ball players will rotate through these stations receiving various skill specific instruction from coaches and players. Skill stations will include but are not restricted to, base running, throwing, hitting, infield, pitching, outfield etc. Campers will be classified first by age and then grouped by ability.
Players will need to bring their own gloves, batting helmets, bats, baseball shoes and a lunch. Be sure to bring a water bottle. This camp will be limited to 32 campers.
Tentative Schedule
Monday – 10:00am to 3:00pm – Training Camp
Tuesday – 10:00am to 3:00pm – Training Camp
Wednesday – 10:00am to 3:00pm – Training Camp
Thursday – 10:00am to 3:00pm – Training Camp
Friday – 10:00am – Pregame
Noon – Double header
Saturday – 10:00am – Pregame
Noon – Double header
Week 2
Camp #2
March 25 to March 30
Location: TBA, North Vancouver
Time: 10:00am to 3:00pm.
Ages: 13 to 15 years old.
Cost: $350 plus applicable taxes.