Last Raps Baseball will be offering 10 week hitting programs in the fall. The fall hitting clinics in Vancouver will be offered on Friday evenings at Kerrisdale Elementary School while the hitting program offered in West Vancouver will be by appointment and those who wish to hit should contact us at [email protected] for more information.
These clinics range for those who are aged 8 to 17 years of age. Clinics are 1.5 hours in length. With a Full clinic, we will work at a ratio of four participants to one instructor. Participants are required to wear appropriate shoes for gym floors. Participants are required to bring their own bat and batting helmet. Last Raps Baseball does not provide these as tools for participants.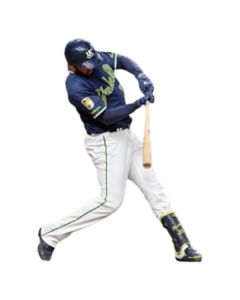 What to expect at our hitting clinics
It is a hitting clinic. We are there to hit. With that said, what will we be doing? Our philosophy with those under the age of 13 is that we believe that we need to focus on two core components: 1) Mechanics and 2) Vision. The fall will focus on the lower half mechanics of the hitters, while in the spring we begin to focus on the upper body of the hitters. We will teach the participants a variety of drills and exercises in order to help the participants become more repeatable in their swings. Tee work, front toss, side toss, coloured baseballs, spin recognition will be some of the things that we will cover with the participants.
Tips for parents:
First Session – is the most important session. It lays the ground work, provides the expectations and introduces participants to the format for the subsequent sessions. If you have attended our clinics in the past, those participants will have a familiarity to the routine and is less important if they have to miss the first session.
Attendance – though it isn't mandatory to attend every session, the question we as parents after the participant has missed two or more sessions is quite simple: Why did you sign up? Hitting is a progressive activity. We work one day per week with the participant, but like piano lessons, guitar lessons, doing math homework etc. the athlete needs to find at least one day per week on the in between to take some swings. Do they always need a parent to do this? No. We show a number of "DRY" drills for the participants to do at home. If you are committed to get better, you probably will. If you are not committed, then you probably can figure out the answer.
Not for everybody – Our program isn't for everyone. We don't offer day care. We offer baseball. We are teaching a skill. If your only objective is that you "just want your child to have fun", this may not be your program. We want to be clear, Baseball is FUN, Learning is FUN, fooling around and being disruptive is NOT FUN for other participants or the coaches.